Postdoctor in Psychology Carmem Beatriz Neufeld will inaugurate specialization in cognitive-behavioral therapy of CEFI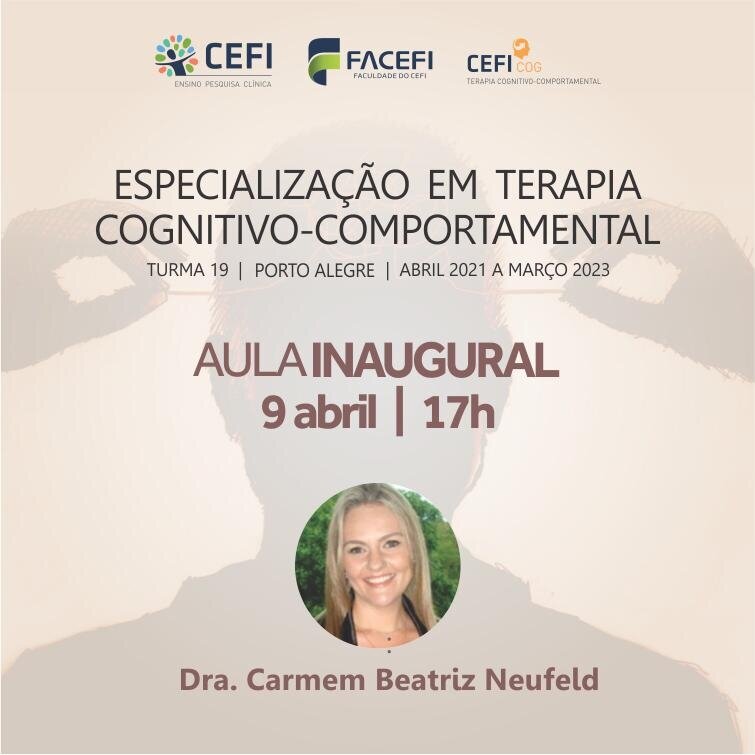 The postdoctor in Psychology by UFRJ, PhD in Psychology and Master in Social Psychology and Personality by PUCRS, Dr. Carmem Beatriz Neufeld, is the special guest to carry out the inaugural class of class 19 of the specialization in cognitive therapy Behavioral. Carmem is also a teacher and coordinator of the research and cognitive-behavioral intervention of USP and vice president of the Latin American Association of Cognitive Psychotherapies (Alapco). The inaugural class will occur on April 9, at 5pm, starting the course.
Registration for the specialization are still open and can be made by clicking here . Offered by the Center for Family and Individual Studies (CEFI-POA), the course aims to promote the learning of conceptual aspects of the TCC model, as well as intervention techniques in the most commonly seen mental disorders in the clinic.
The course is composed of 460h / class through theoretical classes, discussion and supervision of clinical cases, and the differential establishes itself in three main points: quality of teachers, national and international, all specialists in the area; CEFI-POA structure, which has a mirror room for observation of real attendance by students; and on the offer of role playing practices. Students / therapists can still attend in CEFI-POA via Sacefi-teaching modality and will make a case-class supervision.
For more information, please send an email to teaching@cefipoa.com.br or a whats for (51) 99420.7008.
pandemic The face-to-face classes are conditioned to the guidance of the Ministry of Health and Education and the Government of the State of RS because of the Covid-19 pandemic. Initially, classes will occur in the online format and will be resumed in a face-to-face manner as soon as possible to all students, teachers and employees of CEFI.