Easter, Resurrection and Resignification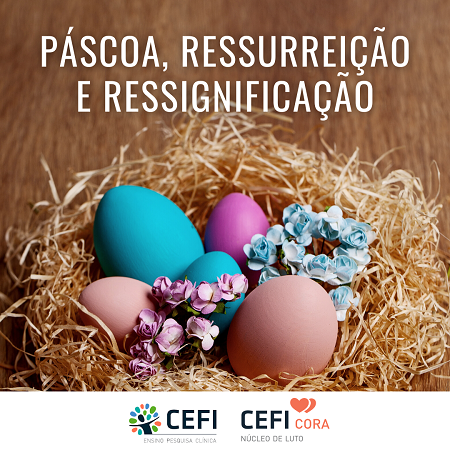 These days, what is the meaning that Easter has for you? Easter can be a holiday on your calendar to rest, relax or put the reading up to date. It can also be one day to bring together family and special people around the table for more elaborate meal, or can still be a day or moment of introspection and reflection. Traditionally, Easter is a Christian festivity that celebrates the resurrection of Jesus Christ.
This year, as marked by losses and changes, resurrection seems to me the most suitable idea to focus here. Resurrection, that is to be reborn, change, transform and is from this symbolic perspective we seek to understand this moment of pandemic with so many adversities. We live a period of mourning for loved people we lose, for the lost freedom in the simple act of going and to come, for the fear of getting sick and dying, so we lose life as we knew it until then.
Daily, we are learning to be resilient and staying us constantly to survive. In this chaos, it becomes involved discovering new ways to realize and realize others, as well as facing the world with responsibility and awareness that what I do impacts the other and the collectivity. This makes us survivors active and responsible for the intense process we are living.
We had to reinvent us for almost everything. The meetings became virtual. Some when they can, are face-to-face, but they are secure, no touch or without embraces. We apprehend that we can embrace and receive a hug through a affectionate look, smile with your eyes, welcome .... Yes, we learn to communicate with your eyes. Our eyes can communicate so many things and thus seek to make gifts, be closer, even though distant physically. Before, we are often gathered to celebrate, now, we have developed new rituals to celebrate the special dates or important days in our lives.
In the next few days, we will have Easter and in this context we wish you to reinvent. Sussic and resuscititis, become transform. May you deliver and also receive much love, care and affection. Take care too, after all, take care of you is a way of taking care of who we love, of whom we wish well. A loving and happy Easter!
Text written by psychologists Denise Capua Corrêa (CRP 07/06338) and Ângela Seger (CRP 07/03834), Members of the CEFI mourning core - POA