Parents and family members of emotional deregulation can sign up for dialectical behavioral therapy skill training (DBT)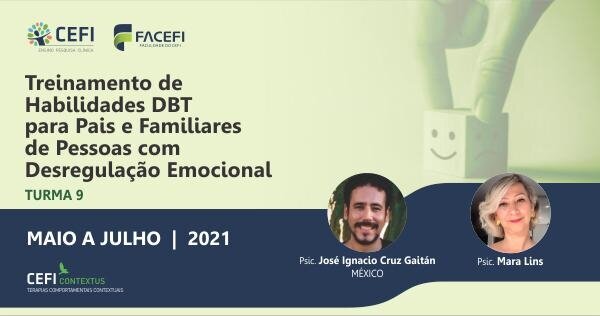 The inscriptions for the ninth class of "Dialectical Behavioral Therapy Skills (DBT) for parents and family members with emotional deregulation" are open. They can participate all people interested in learning the skills of dialectical behavioral therapy to deal with relatives, friends or colleagues who have emotional deregulation. The program, in the remote modality, will occur in 10 meetings, always from 7:00 p.m. to 9pm, weekly on Mondays, from May 17 until July 19.
Why do training?
Many times, family members do not understand certain relatives behaviors and may have inappropriate and harmful reactions. In addition, it is common for family to have few sources of support and receive inappropriate information, both other relatives and professionals who are not trained to deal with emotional deregulation. On the other hand, the relative tends to feel invalidated by his family, friends and for himself, creating a sense of insulation. It is a pattern of negative interactions and emotions, whose result is a tired and emotionally deregulated family. Faced with this, access to the learning of skills that add, stimulate love, compassion for your family member.
Proposed training aims to reduce family stress, assisting in communication, rebuilding trust among family nucleus members, exchange anger by empathy, help participants understand this disorder and teach skills to improve the quality of family relationship . Programmatic content includes: full consciousness; Regulation of emotions; Validation; Behavioral psychology; Interpersonal effectiveness; Commitment and problem-solving strategies;
Personal limits, compassion and self-pity; Tolerance to malaise and how to face risk ducts; and radical acceptance. At the end of the course, participants will be able to know the different skills and know when they should use them and reproduce them in the family context.
The classes will be online, by the zoom platform, with theoretical-practical activities, role playing and exercises to do at home. The family will receive a course manual in your home with the guidelines, psychoeducation and task sheets.The instructors will be the psychologist, a master in psychotherapy, formed in dialectical behavioral therapy (DBT) and with multiple training in acceptance and commitment therapy, analytical-functional therapy and several contextual therapies, José Ignácio Cruz Gaitán, and the psychologist, Master in social psychology, doctor in clinical psychology, specialist in couple and family therapy, with training in contextual behavioral therapies and CEFI director, Mara Lins.
Entries can be made by clicking here .