ADHD in children and adolescents is the subject of an online course at CEFI-POA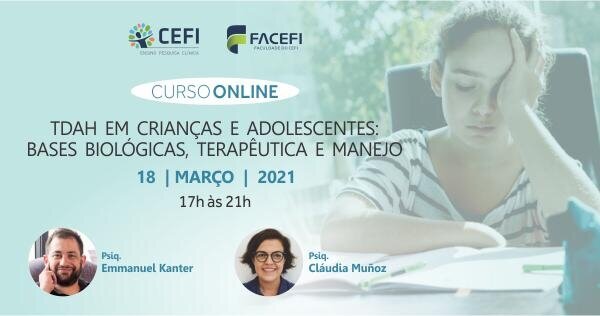 CEFI-POA will hold, on March 18, from 5 pm to 9 pm, the online course "ADHD in children and adolescents: biological, therapeutic and management bases". The training, which is recommended for psychologists, psychiatrists and psychology and medical students, lasts four hours and registration can be done clicking here .
The course aims to fully address the Attention Deficit Hyperactivity Disorder (ADHD) explaining therapy and management in children and adolescents. We will address the 'diagnosis history', 'diagnostic criteria', 'ADHD epidemiology, genetics and neurobiology', 'evidence-based psychotherapies', 'methylphenidate and lysdexamphetamine mechanism of action', 'prescription and drug monitoring'. There will be supervision and analysis of clinical cases.
The lecturers will be the specialist in Psychiatry, master's student in Mental Health and Addictive Disorders and professor at CEFI, Dr. Cláudia da Rosa Muñoz, and the psychiatrist specialist in Cognitive-Behavioral Psychotherapy and specializing in Behavioral and Contextual Therapies, Emmanuel Kanter .
Further information can be obtained clicking here .