Specialization in "Food Balance with emphasis on Contextual Behavioral Therapies" starts in March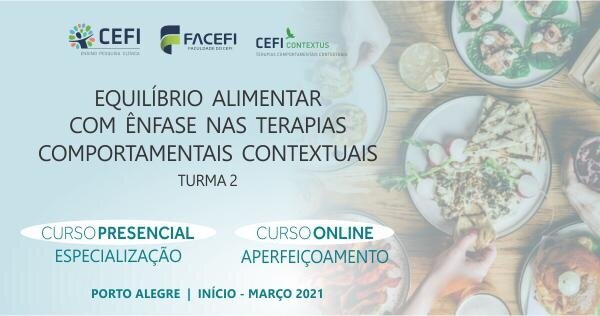 Nutrologists, nutritionists, psychologists, occupational therapists, physical educators and psychiatrists who wish to learn assisted techniques and practices oriented to care in clinical areas in the context of eating behavior can be trained with the Specialization "Food Balance with emphasis on Behavioral Therapies Contextual ". This is the first postgraduate course in Brazil in the area with supervised practical internship. The class starts in March and is available in two formats: Specialization, with 400h / class and face-to-face classes at CEFI-POA, and Improvement, in the online modality, with 300h / class.
The objective of the Post-Graduation is to present professional training tools, both in the applicability of innovative techniques for behavioral approach, as well as to qualify the therapist's self for health within the most varied market needs, such as, for example, marketing and accounting for freelance and healthcare professionals. Training also brings an innovative theme: sustainability as a tool in the therapeutic process - a concept that adds value to the approach to health.
The syllabus contains theoretical bases and physiology of eating behavior, techniques applied to food balance, mindfulness for food balance, among other subjects. Check out the full syllabus by clicking here .
According to the specialist and technical coordinator of the course, Letícia Christianetti, the training focuses on the development of the self therapist. "How we stand in front of our patients and how we find skills to have an effective and qualified approach is the focus of the course, which has technical qualifications, a group of extremely qualified professionals with masters and doctorates and national and international professors", highlighted Letícia .
Classes take place on a weekend of each month, on Fridays, from 5 pm to 9 pm, and on Saturdays, from 8 am to 6 pm, with a 1-hour break. Entries can be made by clicking here .
For more information, send an email to ensino@cefipoa.com.br, send a whats to (51) 99420.7008 or click here .
Pandemia
The face-to-face classes are subject to the guidance of the Ministry of Health and Education due to the Covid-19 pandemic. Initially, classes will take place in online format and will resume in person as soon as allowed and safe for all students.