CEFI-POA promotes Specialization and Improvement in Clinical Sexology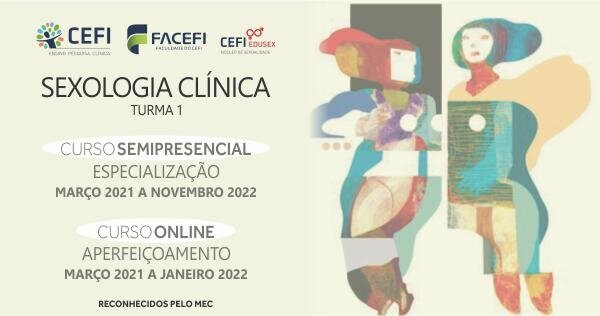 Train medical professionals and psychologists to equip them with scientific and theoretical knowledge, through techniques and procedures related to sex therapy, develop skills in the application of assessment, diagnosis and intervention skills and generate prevention, assistance and treatment in health of the diverse population and for life are the objectives of the Specialization course "Clinical Sexology", promoted by CEFI-POA. Coordinated by Professor João Alves S. Neto, the course focuses on inclusive sexuality, breadth of content and intensification of practical experience.
Available in two formats, Specialization, with 480h / class in the semi-presential modality, and Improvement, with 180h / class in the online modality, the course is recognized by MEC and has a team of qualified professionals and specialists in the area. Classes, fortnightly, start in March 2021 and continue until November 2022.
Formatted in two parts - Human Sexology and The Sexual Therapy Clinic - the specialization includes modules that address the historical and epistemological bases of studies on human sexuality, biomedical and evolutionary models of human sexuality, the psychology of sexualities, relationships and sexualities , sexuality disorders, inclusive sexuality education and sex therapy. Check out the full syllabus clicking here .
CEFI students and alumni have a 50% discount on the registration fee. In addition, until February 28, using the code LIQUIDA80 at the time of registration, an 80% discount will be applied to the registration fee. Sign up by clicking here .
Differentials
The proposal for a specialization in human sexuality and sexual therapy is justified by the need for an updated approach that aims to promote health and sexual well-being in its entirety, involving , in this way, the physical, the mental and the relationships. An inclusive perspective on the constitutions of individuals and societies. Given the breadth of knowledge proposed and necessary for this specialization, the present project highlights the areas of biology (such as physiology and neurobiology), psyche, society, relations, culture, ideology, politics, human rights and scientific knowledge itself.
The themes, present in the disciplines, extend over the history of sexuality, such as the discovery of Foucault's sexuality device, neurosciences, sex medicine, Queer and gender studies, social and clinical psychology, with a diversity of interventional techniques, such as those based on ecosystem theory, cognitive and behavioral psychology, narrative theory, among others.
Therefore, the work in the area of human sexuality and sex therapy, seeks the diversity of approaches for understanding individuals in their multidimensionalities and complexities so that appropriate therapeutic interventions can be employed.
For more information, send an email to ensino@cefipoa.com.br, send a whats to (51) 99420.7008 or click here .
Pandemia
The face-to-face classes are subject to the guidance of the Ministry of Health and Education due to the Covid-19 pandemic. Initially, classes will take place in online format and will resume in person as soon as allowed and safe for all students.