CEFI-POA offers Externship training on Emotional Focused Therapy (EFT) Model with partial international certification by ICEEFT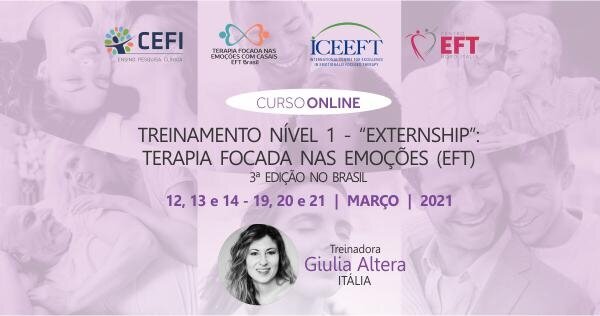 The Center for Family and Individual Studies (CEFI-Poa) promotes the third edition in Brazil of innovative online training for psychologists and psychiatrists working in the field of couples therapy. "Externship: Therapy Focused on Emotions with Couples (EFT)" is the first level of official training for the EFT model. The course takes place in several countries and is recognized by the International Institute for Excellence in EFT (ICEEFT), founded by Dr. Sue Johnson.
Classes, in remote mode, will take place on March 12, 13, 14, 19, 20 and 21, from 8:30 am to 12:00 pm and from 1:00 pm to 2:30 pm, via the Zoom platform. Registration is still open and can be done clicking here < / a>. Payment can be made in up to four installments.
The course consists of training that presents the theoretical bases of the model, explains the steps of the therapy, presents clinical videos, as well as practical exercises of the skills and techniques of EFT and Role plays. Participants practice basic interventions in small groups, with immediate feedback from other therapists trained in the model.
The trainer is the Italian Psychotherapist and Clinical and Forensic Psychologist, Giulia Altera. Giulia is a Trainer, Supervisor and Therapist certified in Therapy Focused on Emotions. In addition to one of the founders of the Community EFT Italy and Director of EFT Center North Italy, vocational training is conducted outside the country and is helping to bring the EFT model for Brazil, Portugal and Poland.
According to Sue Johnson, training participants learn how to use the science of attachment lens to observe patients' problems more clearly and create focused interventions that go to the "x" of the issue for individuals, couples and families . "We want you to know how to work with emotion, to shape moments of progress in each session, to know how to create corrective and powerful emotional experiences that take your patients to new ways of seeing themselves, dealing with their vulnerabilities, and being present with others. We want to inspire them, "said Sue.
Certificate
Upon completing the training, a certificate of 28 Continuing Education credits is provided, which can be used for certification as an EFT therapist with the International Institute for Excellence in EFT (to be certified in the model, it is required to complete more For more information on certification, go to the ICEEFT page). https://iceeft.com/.
For more information about the training, send an email to eftbrasil18@gmail.com, send whats to (51) 99420.7008 or click here . The general coordination of the course is under the responsibility of the psychologist Adriana Zilberman.
On Emotional Focused Therapy (EFT)
EFT is a humanistic approach to psychotherapy that was formulated in the 1980s and developed based on the science of adult attachment, a deep theory of personality development and intimate relationships. This science has expanded our understanding of individual dysfunction and health, as well as the nature of love relationships and family ties. Attachment presents human beings as relationally innate, as well as social and connected by intimate bonds with others. The EFT model prioritizes emotional regulation as the main organizing agent in the individual experience and in the main interactions in relationships.