Spirituality from the perspective of Afro-Brazilian religions will be the approach of the third chapter of the "Life, Death and Spirituality" series of CEFI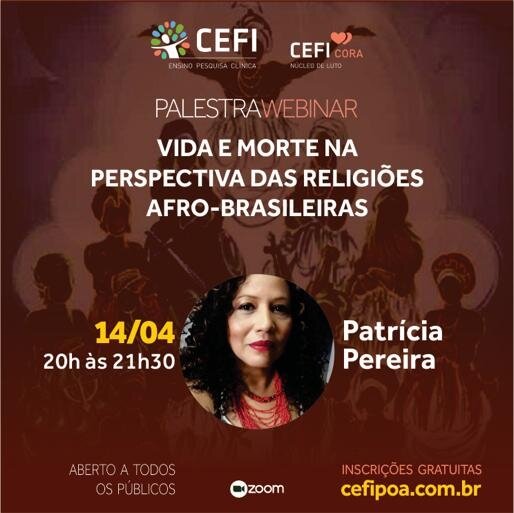 Follow-up to the Websterie "Life, Death and Spirituality", the CEFI will hold on April 14 at 8:00 p.m., the third chapter of the activity, which will address the theme of spirituality within the perspective of Afro-Brazilian religions. In the first webinar, the Buddhist perspective and, in the second, the Spiritist perspective was presented. The event is free and open to the community. To participate, it is necessary to sign up for this link https://www.ceefoa.com.br/br/webinar-ve-e-morte-na-perspectiva-das-religioes-afrobrasiles.
Mediation will be in charge of the psychologist and member of the heart - CEFI mourning core, Brunelly Ferrari, and the guest speaker is the pedagogue, teacher, graduate in law, specialist in public management and society, master in education, afrobetizing and Afroeducador, Patricia Pereira. She is also a trainer, active and a member of several groups on the subject of racial equality and diversities. She has already been awarded with several trophies, such as André Rebouças, young researcher and personality of the year 2018.
About the series "Life, Death and Spirituality"
Although the mourning process is universal, its manifestation is singular, individual and mediated by culture. To understand the process of mourning we need to understand different cultures and their interaction with death and losses. In this sense, among other factors, spirituality can enter as a protective factor and thus be facilitating this process. CEFI brings experts into several perspectives to foster reflection on life, death and spirituality issues.