Specialization in Cognitive-Behavioral Therapy (CBT) is open for registration for the 19th class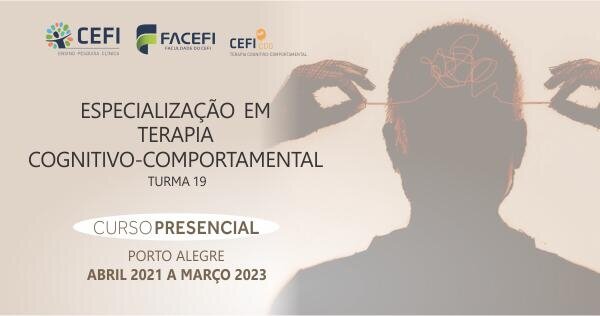 Registration for the 19th class of the Specialization Course in Cognitive-Behavioral Therapy (CBT) is still open. Promoted by the Center for Family and Individual Studies (CEFI-POA), the course aims to promote the learning of conceptual aspects of the CBT Model, as well as of intervention techniques in Mental Disorders most commonly seen in the clinic. The institution has already trained more than xxx professionals in the area.
The course consists of 460h / class through theoretical classes, discussion and supervision of clinical cases, and the difference is established in three main points: quality of teachers, national and international, all specialists in the area; CEFI-POA structure, which has a Mirror Room for the observation of real attendance by students; and offering role playing practices. Students / therapists will still be able to attend CEFI-POA via SACEFI-Teaching mode and will supervise a case in class.
Classes take place one weekend a month and start in April 2021. CEFI students and alumni have a 50% discount on the registration fee. In addition, until February 28, using the code LIQUIDA80 at the time of registration, an 80% discount will be applied to the registration fee. Sign up by clicking here .
Inaugural class
The inaugural class will be attended by the special guest postdoctoral fellow in Psychology at UFRJ and PhD in Psychology and Master in Social and Personality Psychology by PUCRS, Dr. Carmen Beatriz Neufeld. Carmem is also a professor and coordinator of the Cognitive-Behavioral Research and Intervention Laboratory at USP and vice-president of the Latin American Association of Cognitive Psychotherapies (ALAPCO).
The Specialization syllabus presents CBT in the approach of couples and families, in childhood and adolescence, CBT in groups and psychopharmacology and several other cases that promote the improvement of therapeutic skills in different areas. Click here and see the complete teaching program.
About Cognitive-Behavioral Therapy
Cognitive-Behavioral Therapy (CBT) is a brief and focal psychotherapeutic approach, based on evidence and scientific studies, with proven effectiveness. CBT believes that it is our interpretation of events, internal and external, that determine our emotional and behavioral responses. From this, CBT works with three pillars: thoughts, emotions and behaviors. It is a cooperative approach, where therapist and patient have decisive roles in the success of the therapy.
It is indicated for a variety of disorders and psychological conflicts: anxiety disorders, mood disorders, phobias, eating disorders, sexual problems, relationship problems, chemical dependency, pathological jealousy, among others.
For more information, send an email to ensino@cefipoa.com.br, send a whats to (51) 99420.7008 or click here .
Pandemic
The face-to-face classes are subject to the guidance of the Ministry of Health and Education due to the Covid-19 pandemic. Initially, classes will take place in online format and will resume in person as soon as allowed and safe for all students.