Course "LGBTQ Health: Inclusive Sexuality Training Program for Health Professionals" Arrives to the Third Edition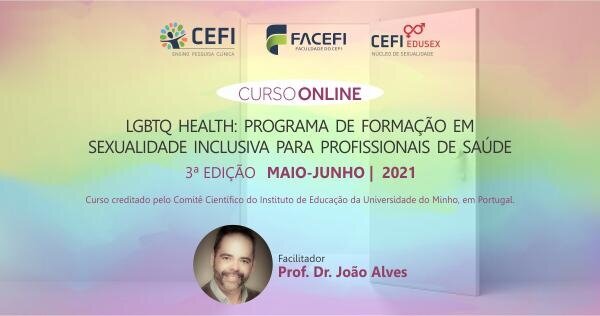 After two editions of intense reflections, learning and exchange of knowledge, CEFI announces the opening of the third edition of the course "LGBTQ Health: Training Program in Sexuality Including for Health Professionals". Registration are open and can be made by clicking here .
The course will occur on days 3.5, 10,12,17,19,24,26 and 31 May and June 2, with classes always on Mondays and Wednesdays, from 6:30 p.m. to 9pm, totaling 25h /class. Training is aimed at Doctors, Nurses, Psychologists, Psychologist (AS), Dentists, Dentists, Physiotherapists, Occupational Therapists, Social Workers, Sociologists, as well as other professionals who are from the field of health .
The psychiatrist, master and doctor in psychology with degrees recognition in Portugal, post-doctor in education, individual therapist, families and couples and teacher, Dr. João Alves, is the course instructor. Alves is also a researcher for human rights, public policies in mental health, relationships and identity of gender and sexual identity. He is author and book editor, book chapters and scientific articles and has international recognition in scientific research. He is also a member of the Midwestern Psychological Association (USA) and Indiana LGBTQ + Council (USA) and Monga of the Elleex team of CEFI - SACEFI.
health promotionThis course is a continuous training program for health professionals at their knowledge, attitudes and practices related to sexuality and health promotion interventions, including LGBTQ. The focus is on the field of health in general and more specifically of mental health, in the interaction between culture, ideology, politics, human rights, social processes and the constitution of individuals, in systemic, ecological and developmental sustainable.
Such phenomena will be developed through LGBTQ and gender, the queer theory and discovery of Foucault's sexuality device. It is a continuing education course.
"LGBTQ Health is a continuing training program based on a collaborative model for health professionals, with the objective of offering training in the educational process for inclusive sexuality of the LGBTQ population and increased mental health levels of the general population , with a tour of assistance in the territory and training of multipliers, "explained the instructor, Dr. João Alves. The course has the influence of projects developed in other countries, as in the United States and Portugal.