Core Skills: Advanced "Therapy Focused on Emotions (EFT) with couples" will occur in June and September in CEFI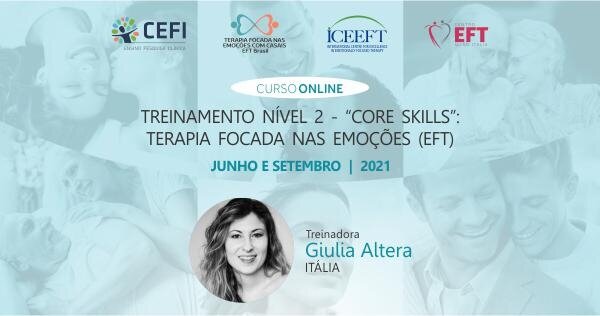 CEFI brings, in remote mode, the advanced level of the "Therapy Focused in Emotions (EFT) course with couples." Level 2 training called Core Skills, will occur in the months of June and September, always Fridays, Saturdays and Sundays, from 8 am to 1:30 p.m..
Training is indicated for psychologists and doctors who have already performed level 1 training, called externship. The instructor is the psychotherapist and clinical and forensic psychologist, Italian Giulia altera. Giulia is a formative, supervisor and therapist certified in therapy focused on the emotions by ICEEFT, in addition to one of the founders of the EFT ITALIA and director of the EFT North Italy.
The registrations are open and can be made by clicking here .
Advanced training
Training Essential Skills (Core Skills) is the second level of training after the EFT (Externship) initial stage or training. Is performed by a smaller group and is divided into four levels.Each of these levels is to deepen the knowledge of the therapy focused on the emotions with couples acquired in initial training and is based on the techniques and skills considered essential for the efficient practice of EFT with couples. Participants practice basic interventions in small groups, with immediate feedback from other more experienced therapists and can see and practice EFT through exercises, simulations or dramatizations and revision of double session recordings.