CEFI holds virtual graduation of the eighth class of the Specialization in Mourning course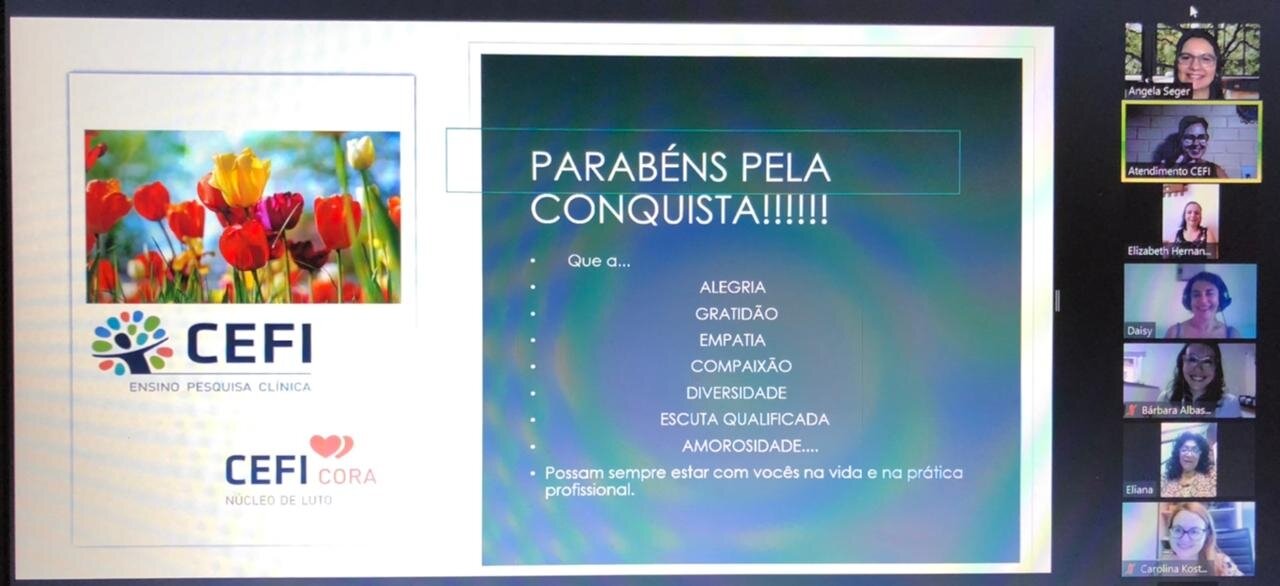 On March 12 and 13, there was the presentation of Course Conclusion Papers (TCCs) and the virtual graduation of the students of the eighth class of the Specialization in Intervention and Grief Situations at CEFI.
The psychologist and technical coordinator of the course, Ângela Seger, who participated in the final evaluations together with the psychologist Denise Cápua, stated that the works presented were impeccable and that they brought an advanced approach on the themes dealt with in the course. "We left very satisfied and impressed with the quality of the works, with the themes analyzed, bringing other perspectives on studied issues", she pointed out.
During graduation, teachers sent depositions and messages online to mark the graduation ritual. "It was very beautiful, interesting. It was important to close with the class, even in a virtual way ", revealed Ângela.
The students' feedback regarding the course was also satisfactory. "We started the first semester of the course in person and followed the other two online. It was challenging. And even so, the evaluation of the students was very positive, both in relation to the faculty, very qualified, specialists and who work in the area, and in relation to the organization ", said the coordinator.
Finally, Angela stressed that this course is constantly improving. The curriculum and supervision are key points for the quality and excellence of specialization. "The students have the first semester essentially theoretical, in the sense of basic fundamentals, important elements so that one can go to practice. The other two semesters are done in such a way that students have mourning intervention disciplines, but also make their interventions and can be supervised by a teacher. Supervision is carried out in both semesters, as a reinforcement for learning. And, in this specialization, we are not only talking about death, mourning in a clinical perspective, but about other contexts, such as losses related to changes, disruption of affective relationships and many other issues. The professional who carries out this specialization becomes able to work in different contexts ", she concluded.
Specialization in Mourning and Covid-19
The eighth group of Specialization in Grief experienced the pandemic period. According to Angela, during the three semesters, this topic was discussed in class and brought unique experiences to the participants. "This group was characterized by being people with varied experiences. We had several students who are at the forefront of serving Covid-19. At the same time that they were studying, they were living this reality. This enriched the exchange with teachers, with colleagues ", pointed out Ângela.
CEFI informs that the ninth class of the specialization course in Intervention and Mourning Situations is in progress and will soon start to open registration for the 10th class.