CEFI opens class 90 of the specialization course in individual systemic therapy, conjugal and family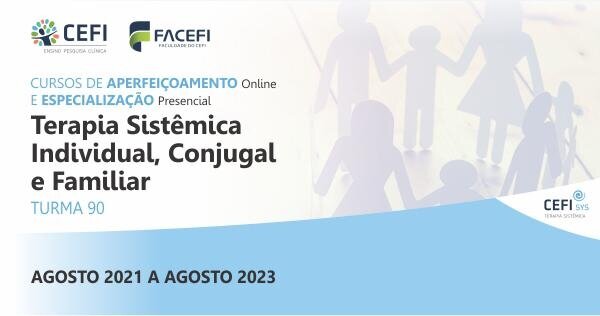 Since 1989, CEFI performs the specialization course in individual, marital and family systemic therapy and has been enabled and empowering professionals to intervent preventive and therapeutically in situations of couples and families crisis through theoretical-practical and experiential methodology. In August 2021, CEFI inaugurates class 90, with highly qualified teachers, with wide experience, national and international (Spain and Portugal) and with recognition of the MEC and the Brazilian Association of Family Therapy (ABRAF).
can sign up for the course psychologists, doctors and social workers. Classes are fortnight and occur on Saturdays from 8 am to 5:50 p.m. The registrations are already open and can be made by clicking here .
Specialization covers aspects of different theoretical lines, distinct family therapy schools; structure and family dynamics; theory of crisis and typology, formation of symptoms; diagnosis and clinical intervention strategies; between others. Full program content can be seen clicking here .
The methodology brings theoretical classes, with discussion of texts, presentation and videos debate, expository classes, sociodramatic, dynamic, group work; practical and experiential classes, with simulations (roleplaying), discussion of clinical cases, debate from video calls and movies and direct supervision (live care); and Self work of the therapist (Therapist's origin family and the current therapist's family [FAT], dramatizations and training of intervention techniques.
The faculty is formed by the International Teachers Doctor in Psychology, Professor of Psychology at Universidad del Country Vasco (UPV), Clinical Psychotherapist and President of the Spanish Federation of Associations in Psychotherapy (FEAP), Iñigo Ochoa de Alda (Spain) and by the psychologist, president of the Portuguese family therapy society, a couple and family therapist, trainer, supervisor and author of various articles, Ana Gomes (Portugal) as well as 14 national teachers, specialists, masters and doctors in the area: Adriana Zilberman , Andreia Arendo Podolano, Angela Cristina Pratini Segini, Cristofer Batista da Costa, Daniel Bratta Mazzali, Denise Falcke, Denise Silva Motta dos Santos, Ligia Carangache Kijner, Mara Regina Soares Wanderley Lins, Maria Amélia Jaeger, Maria Eliza Vernet Machado Wilke, Maria Fátima Galarza Rosa, Maria Isabel Wendling and Mariane Brusque Radke.The coordination-general of the course is in charge of the CEFI psychologists and directors, Adriana Zilberman and Mara Lins, and the coordination of teaching, of the psychologist Maria Eliza Wilke. More information on graduate school can be obtained by Whats App (51) 99420.7008 or by email teaching@cefipoa.com.br.
Enhancement course
Professionals and graduate students of last periods of health areas (Psychology, Medicine or Social Service) can participate in the course in the improvement mode, in the online format. More information and registrations can be made clicking here > .
pandemic
Face-to-face classes are conditioned to the guidelines of responsible authorities. The classes will start in the remote mode in order to preserve the health of teachers, students and employees. As soon as safe and authorized, face-to-face classes will be resumed.