CEFI opens second class of specialization in "contextual behavioral therapies based on processes"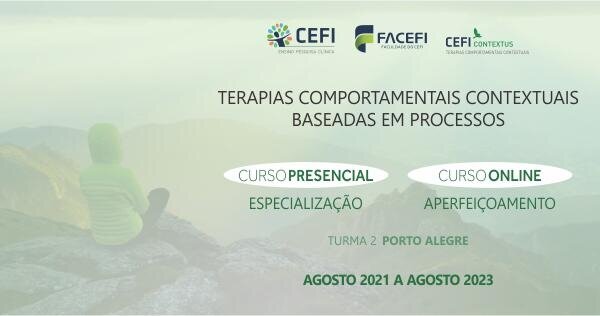 Psychologists and doctors who have an interest in specializing in "contextual behavioral therapies based on processes" can already sign up for the Postgraduate course promoted by the CEFI that begins in August. The complete programmatic content of classes, which brings in its issue topics such as acceptance and commitment therapy, learning, mindfulness in psychotherapy, functional analytical psychotherapy (FAP), integrative couple behavioral therapy (IBCT), dialectical behavioral therapy (DBT) , ACT procedures in clinical practice, verbal behavior and relational framework theory (RFT), can be accessed here .The purpose of the course is to enable professionals in evidence-based therapeutic processes, linked to therapeutic procedures to help solve patients' problems and favor a valuable life.
"In this course, the main behavioral processes of the different contextual therapies will be offered by integrating the theoretical part with the development of clinical skills, applying the knowledge acquired in skill training practices, supervised service in the Gesell Chamber Mirrors) and indirect supervision, "explained the PhD in Psychology, Director of the Faculty of CEFI (facefi) and course coordinator, Mara Lins. It also integrates the coordination of the course the master in psychotherapy, teacher and book author, Mexican psychologist José Ignácio Gaitán.
Registration can be made < STRONG> clicking here .
There is also the option of the improvement course on the same theme, with a workload of 290H / class, whose differential is the student not to participate in the supervision party and not perform the course completion work. This mode, which can be remote or face-to-face. click here For more information.
about contextual behavioral therapies
Contextual behavioral therapies are linked to basic surveys that help change and improve treatment procedures and, consequently, assist the client to go towards a life that is worth living.
Currently the proposal for a conceptualization of therapies in the Community of the contextual behavioral sciences is changing from the perspective of therapeutic procedures to the perspective by therapeutic processes. Therapeutic processes are the underlying mechanisms of change that lead to a goal of treatment. A training based on therapeutic processes facilitates a better understanding of the procedures applied in therapy, because directly binds treatment to theory and, as a result, increases the accuracy, reach, efficiency and efficiency of therapists, to alleviate problems and promote life improvement (Hayes & Hofmann, 2018).