CEFI opens 10th class of specialization in "intervention in situations of mourning"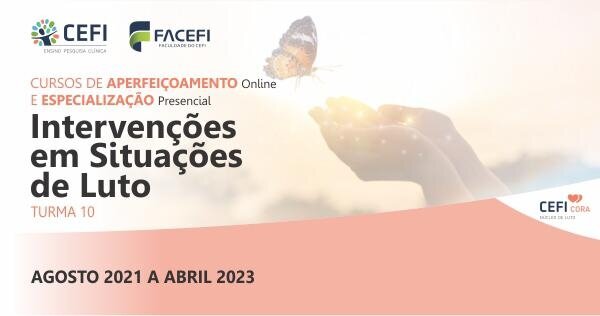 The objective of providing theoretical subsidies for a broader understanding of the complex mourning process and providing practical experience aiming at instrumentalization for the approach of situations related to mourning, CEFI carries out specialization in "intervention and mourning situations. This is the 10th class and inscriptions are already open and can be made by clicking here .
"This course is the fruit of a long and careful process of dedication of professionals linked to the Coração team - core of study and mourning care of CEFI. It was developed in a theoretical-practical format, contemplating fundamental themes and integrating a robust faculty. It has the purpose of instrumentalizing health professionals for the identification, understanding and intervention in mourning situations with individuals, families, groups and caregivers, "highlighted one of the course coordinators, Denise Capua psychologist.
The specialization proposal is to address the theme of mourning, including historical, psychosocial aspects, training and breaking of links, normality and pathology, as well as intervention in these situations, through various approaches and techniques.
You can attend professionals and students from the 9th semester of health areas. Classes start in August 2021 and follow until August 2023, with biweekly classes on Saturdays, from 8am to 6pm.
The faculty is formed by the experts and masters Adriana Zilberman, Angela Seger (coordinator), Juliana Potter, Ana Maria Dallagnese, Daniela Reis e Silva, Caroline Santa Maria and Claudia Santos.
Program Content
Among the themes that will be studied are socio-cultural aspects of death and die; Current work panorama with mourning; Training and rupture of the human bond; Death in contemporary life; Bioethics of death and die; Mourning in children and adolescents; Process of individual mourning and family; Tragic / catastrophe deaths; Tricky mourning; Suicide; Special situations of mourning; Complicated mourning assessment; Mourning therapy, intervention in crisis; Violent death; Mourning and religiosiodade; Interventions in tragedies and catastrophes; between others. Full program content can be seen clicking here< / a>.

Improvement
For those who want to participate only from the intervention improvement course in mourning situations, click here.